Harriet Atkinson 'disgusted' over CPS witness error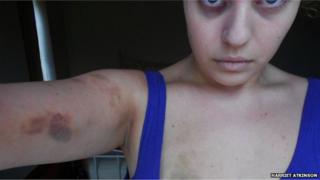 A woman has said she feels let down after the trial of a man accused of attacking her was halted because of a mistake by prosecutors.
Harriet Atkinson, 22, from Ipswich, said she was "absolutely disgusted" at the way the case had been handled in Ipswich's Magistrates' Court.
The case was abandoned after witnesses were told the wrong time to attend court for the opening of the trial.
The Crown Prosecution Service (CPS) has apologised after admitting the error.
A spokeswoman for the CPS said it was considering seeking a judicial review of the court's decision.
Ms Atkinson, who works in the fashion industry, said: "If this happened to me again I wouldn't even bother going to the police. I think it's terrible."
She added: "I'm absolutely disgusted with the whole thing. It has been hell over the past 11 months."
A CPS spokeswoman said the case was listed for trial on 5 September, with a 10:00 BST start.
"The prosecutor became quickly aware that witnesses had been asked to attend court at 14:15, rather than 10:00, and made urgent arrangements to ensure the main prosecution witness could get to the court that morning," she said.
"The prosecutor informed the court that the witness was on her way, and asked the magistrates to adjourn the case until later in the morning, to give the witness an opportunity to get to court.
"This application was refused by the court and therefore the case could not proceed any further."
A 22-year-old man from Ipswich was charged on 18 February with assaulting Ms Atkinson. The alleged offence happened on 1 January.
The man will not face any further action, subject to any future review of the case, the CPS said.
Ms Atkinson said the mistake became apparent after she was called at around 10:10 and told she was due in court.
The CPS spokeswoman added: "We are currently considering whether a judicial review of the court's refusal to adjourn the case would be appropriate.
"We also recently met with the complainant and her family and have said we will keep them updated with developments."
Ben Gummer, Conservative MP for Ipswich, said: "A letter did go out to this lady for the witness, it just had the wrong time on it, so it's not like they didn't have the capacity to be able to put out the right letter.
"They put out the letter, it didn't have the time on it, they've admitted they've made a mistake and they needed to sort it out.
"But what the CPS needs to understand is they just can't keep on making mistakes and expect the courts to pick up the time wasted and the bill."