Terry Waite reunited with painting he left on train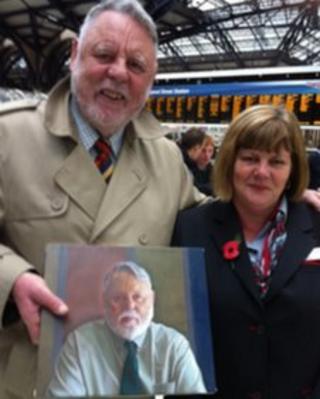 Terry Waite has been reunited with a painting he left on a train in Suffolk last month.
The former hostage left the Bingham Brothers' portrait of him on the train when he alighted at Bury St Edmunds.
Mr Waite was presented with the painting at Liverpool Street station in London after it emerged it had been handed in at Ipswich.
"I'm absolutely delighted to have it back and will keep a much firmer grip on it from now on," he said.
Mr Waite, who lives in the village of Hartest near Bury St Edmunds, had been to Birmingham on 5 September to collect the painting, which is a study for a main version.
He said he had left the return train in a hurry as he feared he was going to get a parking ticket.
It is understood the painting was found on the train on the same day, but the connection to Mr Waite was not discovered until a member of staff read an article on the BBC website.
Mr Waite was kidnapped in Beirut in 1987 and kept hostage until 1991.
He had been sent to Lebanon as envoy to the Archbishop of Canterbury to negotiate the release of several hostages.