Felixstowe Spa Pavilion lead thefts lead to leaky roof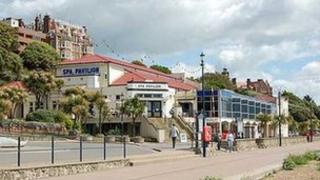 A Suffolk theatre, which is threatened with closure, now has a leaking roof after lead was stolen from its roof.
Felixstowe's Spa Pavilion found that lead flashing had been taken and they ended up with buckets on the stage to catch the rainwater.
Permanent repairs are due to be carried out next month to replace the temporary fixes.
Suffolk Coastal District Council is due to close the venue in January while a buyer or manager is being sought.
It is believed the lead was stolen at the end of September.
Julie Howes, theatre manager, said: "There's been quite a lot of rain recently and we've been trying to mop things up.
"It's had a temporary fix but the rain did find a new route last Friday and we had buckets on stage while repairs were done to get us through the night.
"It hasn't really affected the shows, but October to December are our three busiest months."
The permanent repairs are due to begin on 5 November and are expected to take four days.
The council, which owns the building, voted to end its £250,000 annual funding earlier this year, meaning the venue will close in January when the current contract with a management company ends.