Richard Fox inquest: Jockey died after falls in Newmarket and hospital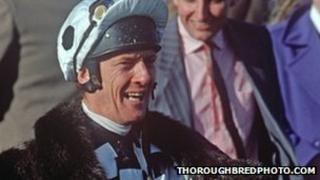 Former jockey Richard Fox died after falls in a Newmarket shop and in hospital at Bury St Edmunds, an inquest has heard.
Mr Fox died at the West Suffolk Hospital in June 2011, two months after being admitted with a head injury following a fall at an Iceland store.
The coroner in Bury St Edmunds recorded a narrative verdict.
It concluded he died from a head injury set against a background of epilepsy following a 1999 brain injury.
The inquest heard that Mr Fox rode 872 winners before retiring as a jockey in 1993 and then retired from training after he had a brain aneurysm while riding on the Newmarket Gallops in 1999.
The inquest was told he then developed epilepsy and had been an alcoholic for 11 years, drinking two to three bottles of wine a day in later years.
'Felt dizzy'
He had been drinking wine earlier in the day when he fell at the shop on the afternoon of 30 April 2011.
Kevin Knights, a friend who was with him, said he had complained of feeling dizzy, fell and cut his head on a freezer.
Mr Fox was taken to casualty at West Suffolk Hospital, given a brain scan which doctors said showed no abnormalities.
He was transferred to another ward, lifted into bed where his wife joined him.
After about 35-40 minutes on the ward, he was found on the ground after being left alone behind a curtain.
More treatment
Dr David Rouse, who carried out a post-mortem examination, said it was more likely he fell from the bed rather than got up and then fell, but that he "survived a long-time, which makes finding out what's gone on virtually impossible".
He had further treatment at the specialist brain unit at Addenbrookes Hospital in Cambridge, was transferred back to Bury St Edmunds and died on 28 June, 2011.
Coroner Peter Dean's full narrative verdict stated: "Mr Fox died from complications following a head injury after two falls against a background of epilepsy following a sub-arachnoid haemorrhage [in 1999]."
After the hearing Marie-France Vincent, Mr Fox's widow, said: "It has been a year since Richard's death and we are relieved now the coroner has determined the cause of death we can, as a family, draw a line under this matter and move on.
"Richard lived life to the full and enjoyed a good practical joke. He brought happiness and good humour to those around him and is sadly missed."