Terry Waite leaves Bingham Brothers portrait on train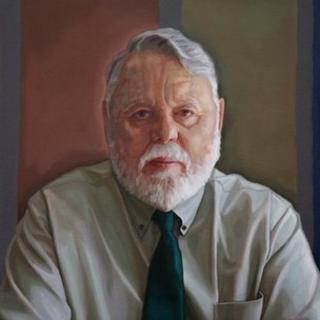 The former hostage Terry Waite is appealing for the return of a portrait which he left on a train in Suffolk.
The former Church of England special envoy had left Bury St Edmunds railway station when he realised the picture was on the train.
He had been in Birmingham and collected it from the artists.
Mr Waite said: "To go missing once for five years as a hostage is understandable, but to go missing twice is really ridiculous."
The portrait was painted this year by the Bingham Brothers who are based at Bridgnorth in Shropshire.
Mr Waite, who was a hostage in Beirut from 1987 until 1991, said he arrived back in Bury on the evening of Wednesday, 5 September.
'Dartboard'
Mr Waite said: "I'd left my car without a ticket at Bury station, so I was so distracted by the thought that I'd have a parking ticket that I left the painting on the train.
"I reported it to lost property, but nothing's turned-up so it's probably in a pub somewhere being used as a dartboard."
The portrait the artists gave to Mr Waite was a 'study' for the main version which is part of their People Of Our Time series, which also features Paul Weller, Charlton Heston and Tony Benn.
The Bingham Brothers said it would be impossible to sell the painting through a reputable auction house.
David Bingham said: "If we can't locate this study, we will certainly do a fresh painting for him.
"We might be prepared to pay for the painting's return rather than have to do another one, but there's no reward as such.
"We wanted to paint Terry because he's someone we admire as a courageous person who's remained approachable despite his ordeal."
Mr Waite said he need not have been distracted when he left the painting on the train.
He said: "Fortunately I didn't get a parking ticket - that would have been the crowning glory."