Cement down Ipswich sewer blocks 200 homes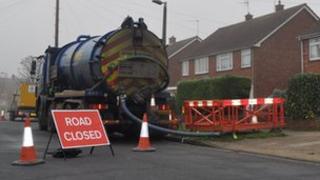 Some 200 Suffolk homes are having to have their sewage pumped by trucks after builders' cement blocked a drain.
Anglian Water said a 98ft (30m) length of pipe was blocked at Defoe Road in Ipswich.
The company said it was going to connect an overground pipe to bypass the blockage while it tried to clear the cement.
Road diversions are in place but the company said it did not know how long the work would take.
The water company began the pumping operation after it was alerted to the problem on Friday.
Sewage flow has been blocked from homes in the Chepstow Road, Epsom Drive and Lambourne Road area of Whitton.
Building work was being carried out on foundations at a house on Chepstow Road, and the owner said it was the source of the cement getting into the pipe.
Antony Innes, spokesman for Anglian Water, said: "Unfortunately, we cannot be sure how long this repair work will take.
"The sewer runs between four and five metres deep, making it hard to predict the extent of the damage until our engineers are able to dig down and see what we are dealing with.
"This is an exceptional and unfortunate set of circumstances and we need to repair the damage as quickly as possible."