CA Watson greengrocer to join Sudbury supermarket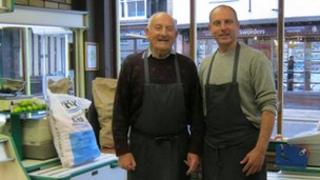 A Suffolk town's only independent greengrocer's shop is to close after 66 years, with the owner off to work in one of the big supermarkets.
CA Watson of Sudbury is citing changing shopping habits and online deliveries as the reason for its closure.
John Watson, owner, said: "It's a fact of retail that small shops can't compete with the supermarket and if you can't beat them, join them."
The shop will have its final day of trading on Saturday.
The store opened in 1946 in the post-World War II era of rationing.
Mr Watson said it was one of about four small greengrocers in the town and their stock mainly came from local suppliers.
Father and son
Mr Watson, 48, who started working for his father and grandfather in the shop when he was 12 years old, said: "I need to work for another 20 years but I'm just not sure about the future of traditional high street shops with the changing way of doing shopping.
"There's nothing I'd rather be doing than working in a shop, but I need to make a living and I'm sure I'll see a lot of our customers when I start working in Waitrose."
Derek Watson, John's father who took over the shop in 1970, said: "I remember when aubergines first appeared in the 1960s, because they'd had them on holiday and they wanted them here.
"That was the start of the more unusual fruits and vegetables in UK shops."