Lowestoft south beach sea wall work approved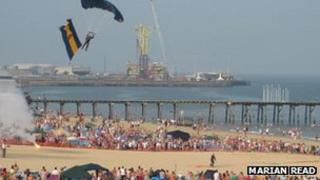 Work to protect the sea wall at a Suffolk beach has been approved.
Waveney District Council has allocated £400,000 to spend on the foundations of the wall at Lowestoft's South Beach where sand levels are dropping.
The work will take place along a 170m (186 yards) stretch between the harbour and Claremont Pier.
Councillor David Ritchie said: "If we didn't do the work and beach levels keep dropping, with tidal surges in the winter, the wall could be undermined."
The council said the wall was not damaged, but it does not have foundations, so if the base is exposed, it could be eroded by the sea.
Conservation officers said beach levels shift along the sea front in cycles and while the northern part of the beach is getting lower, there is more sand south of Claremont Pier than ever before.
Mr Ritchie said: "It's a natural process which is monitored the whole time and appropriate works are done and it's prudent to be doing the work now, because if we don't there might be trouble later on."
A contract for the work will be put out to tender and it is expected to begin in January, lasting about three months.