Ipswich's County Hall on Victorian Society's endangered list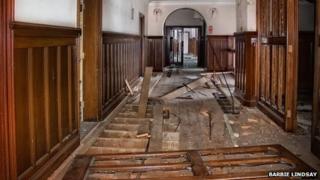 A former jail in Ipswich has been put on the Victorian Society's list of 10 most endangered buildings.
The organisation said County Hall had fallen into disrepair after being sold by Suffolk County Council in 2004.
It said the Grade II listed building was "designed to instil awe" but now "inspires pity and anger" after being over-run by "drug users and squatters".
Ipswich Borough Council said it was due to meet with the owner of the building to discuss security measures.
The Victorian Society, a charity which campaigns to preserve Victorian and Edwardian structures, claimed Ipswich Borough Council was to blame for the building being added to its annual list - which covers England and Wales - as the authority should have ensured owner Rainbow Developments protected the building.
Director Chris Costelloe said: "In return for permission to build flats on adjacent land, the council was supposed to get the owner to develop and protect the historic building. This didn't happen.
"Security measures have clearly been inadequate and it's especially reprehensible when it occurs to a fine civic building."
Mr Costelloe said an urgent works notice should be served to ensure the building was made secure before emergency works were carried out.
County Hall, which is on St Helen's Street, was built in 1836-37 and has been a jail, a law court and then a council building from 1906.
The county council sold it when it moved to its new Endeavour House headquarters, and planning permission for 28 flats on the site was subsequently granted by Ipswich Borough Council.
No planning permission has been granted for redevelopment of the County Hall building itself.
Its street level windows have been boarded-up, the glass on the clock vandalised and metal theft has allowed rain water to get in, the Victorian Society said.
The borough council said it had been monitoring the site and was due to meet later this week with the owner to discuss security measures and to try and ensure the building is watertight.
Rainbow Developments has been unavailable for comment.