'Black widow' scare closes Wattisham air base buildings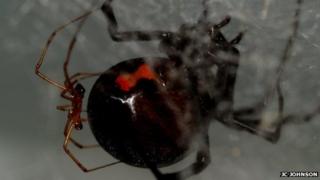 A "suspicious spider" spotted in the bar of the officers' mess has forced part of a Suffolk air base to close.
Wattisham air base closed two of its buildings on Friday due to fears that a black widow spider was on the loose.
Last month a colony of the species was destroyed after it arrived in a crate of equipment from California.
The Ministry of Defence said the spider in the mess had since been identified as a noble false widow spider and was "not considered a threat".
The buildings at the base, near Stowmarket, were isolated for fumigation and have since reopened, the MOD spokesperson said.
The noble false widow spider is the most venomous arachnid commonly found in the UK - but they are not as dangerous as their close cousin, the black widow.
The venom of some black widow spiders can cause cramps and fever, although their bites are rarely fatal.
Only the females are venomous and are called black widows because they eat their much smaller male partners after mating.