Carole Bullett inquest: Horses 'too distressed' to ride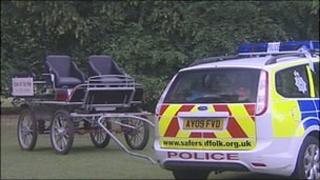 Horse and carriage rides at a Suffolk country fair should have been stopped an hour before a horse ran into a crowd of spectators, an inquest has heard.
Carole Bullett received fatal chest injuries at Bury St Edmunds' Nowton Park in June last year.
A report for the Health and Safety Executive said three of the four horses had shown signs of distress.
The horse which bolted was too young, there were too many spectators and not enough barriers, the report found.
'Eye off ball'
Jon Parker, who is experienced in carriage driving and produced the report, also said the operator and the groom did not have adequate training and experience.
The inquest at Bury St Edmunds Farmers Club also heard from Martin Hosker, the health and safety manager for organiser St Edmundsbury Borough Council.
Mr Hosker said he had not seen an event safety plan before the fair on 20 June.
He had not requested to see it, did not receive a copy and did not chase it, he said.
"I took my eye off the ball," said Mr Hosker.
The inquest continues.