Carole Bullett inquiry: No risk assessment from horse owner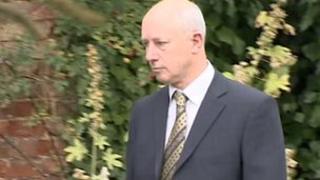 A risk assessment form had not been submitted before a Suffolk country show where a woman died after a horse bolted, an inquest has heard.
Carole Bullett received fatal chest injuries at Bury St Edmunds' Nowton Park in June last year.
St Edmundsbury Borough Council employee John Smithson said he had not received the form from the owner of the horse until after the event.
Owner Duncan Drye operated horse and carriage rides at the fair.
Mr Smithson said Mr Drye was insured for the event.
'Rare occurrence'
Mr Smithson, a senior park ranger, said he met with Mr Drye the week before the fair.
"I don't see all risk assessments of those attending," said Mr Smithson. "I thought it more important to agree how the operation would work."
He told the inquest that since the incident the council had become more rigorous with its paperwork and now ensured that risk assessment documents were submitted and read prior to an event.
The inquest at the Bury St Edmunds Farmers Club also heard from Nigel Oakley, who has 30 years' experience of working with horses.
He said horses bolting was a rare occurrence.
"There is always something that will scare a horse, you just need to find out what it is," he said.
The inquest continues.