Horse owner gives evidence at Carole Jane Bullett inquest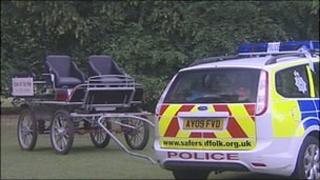 The owner of a horse which bolted and ran into a crowd of spectators at a Suffolk country fair said he did not order the removal of its bridle.
Carole Bullett received fatal chest injuries after the horse, Lucas, and its carriage bolted at Nowton Park in Bury St Edmunds last year.
Duncan Drye said he was 100% sure that, contrary to earlier accounts, he had not asked handler Sally Tyrrell to remove the horse's bridle.
The inquest continues.
'Horse whisperer'
Coroner Peter Dean said that "major discrepancies" were starting to appear in the evidence heard at the Bury St Edmunds Farmers Club.
Mr Drye, who described himself as a "horse whisperer", said he did not order the removal of the bridle to allow the horse to feed and questioned the relevance of the detail.
He said horses frequently bolt when still wearing their bridles and felt this could be clouding the issue of why Lucas bolted in the first place.
Mr Drye had said in a statement that his horses had been well behaved on the day. Previous witnesses had described a number of incidents where the horses looked unhappy and agitated.
He said Ms Tyrrell had told him the horse had bolted. He found Lucas lying on the ground, with the carriage still attached, he said.
Mr Drye said he led the horse to somewhere quiet and examined him to see if he might have been bitten by an insect, but he could not find any evidence of this.