'Arrest threat' over 'provocative' Ipswich Town fanzine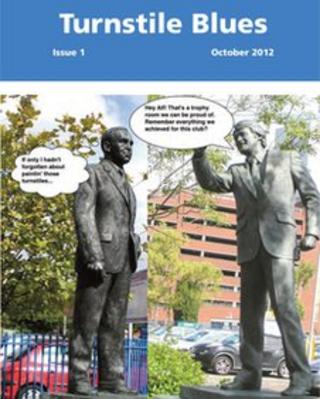 A seller of an Ipswich Town fanzine has complained to police that he was threatened with arrest over its "provocative" content.
The man's details were taken by plain-clothes officers as he sold Turnstile Blues outside Portman Road on Saturday.
The fanzine is critical of the Ipswich Town chief executive Simon Clegg and owner and chairman Marcus Evans.
Suffolk Police said they were made aware of the fanzine seller by the club and offered him "words of advice".
Turnstile Blues is written by a group of Ipswich fans with concerns including the size of the club's debt and its consultation and communication with supporters.
The fanzine seller, who asked not to be named, said he was outside the main gate on Constantine Road with his 11-year-old daughter and eight-year-old son before Saturday's match against Cardiff City.
'Breach of peace'
He said the club's security staff had asked to look at the fanzine to see if it contained anything "provocative", and handed it back, saying: "Seems all right".
Later he said he was approached by two undercover police officers who again asked if the fanzine contained "provocative material".
He said they asked him to move, telling him if he did not he may be arrested for causing a breach of the peace.
He agreed to move to avoid distressing his son, he said, and had since complained to Suffolk Police about his "heavy-handed treatment".
A Suffolk Police spokeswoman said: "Staff at Ipswich Town Football Club spoke with two plain-clothed officers working at the Ipswich v Cardiff match on Saturday, making them aware of a man selling an unofficial fanzine outside the entrance to the club.
"The man was spoken to and words of advice were given. The officers advised the man that although he was not doing anything wrong, it may be an idea to move along the way by about 50 yards.
"The man was asked his name and address for checking against the Police National Computer but also advised that he was not obliged to give them.
"The man agreed to give his details and the officers went on their way."
Susan Gardiner, editor of Turnstile Blues, said: "Our sellers made sure they weren't on Ipswich Town property and causing an obstruction.
"We don't feel that our magazine is provocative. It's raising some serious concerns, which we feel we have done in a humorous, entertaining way.
"I'm slightly concerned that a policeman is acting on behalf of the football club."
An Ipswich Town spokesman said: "One of our security staff may have brought to the attention of a police football liaison office that someone was selling a fanzine, but it was never our intention to stop them selling.
"We respect the opinions of supporters, and in the world of football you are going to get criticism, especially when you are second from bottom of the table."