Carole Jane Bullett horse death inquest hears from handler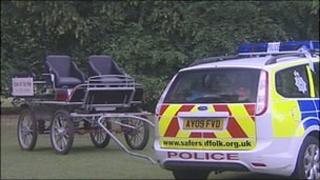 The handler of a horse, which bolted and killed someone in Suffolk, has told an inquest she had been given no health and safety instructions on the day.
Carole Bullett, 57, from Bury St Edmunds, died after a horse and carriage went into the crowd at the town's Nowton Park in June last year.
Sally Tyrrell, 24, was looking after the horse, and has told the coroner's court she had no formal training in horse carriage driving.
The jury inquest continues.
Mrs Bullett, who was visually impaired, was hit by the horse and carriage in the late afternoon of 20 June 2011.
She died from chest injuries at Addenbrooke's Hospital in Cambridge the following day.
Children and dogs
Ms Tyrrell told the court she had spent two years at Otley College near Ipswich studying horse care and horse riding, but she had not been taught to drive a horse and carriage while there.
She had worked for Duncan Drye, the owner of the horse called Lucas, providing rides in Bury St Edmunds town centre since April 2011.
The first time she had driven with Lucas was in May 2011 at a corporate event.
Ms Tyrrell told the court that the horse had not misbehaved on the day of the fair and he had not reacted to the noise of children playing or dogs barking.
The court had previously heard that the bridle had been removed from Lucas, so he could eat some hay, before he bolted at Nowton Park.
Ms Tyrrell told the court she was "pretty certain" she had been told to remove it by Mr Drye and it would not have crossed her mind to do so if he had not asked her.
Mr Drye's solicitor has told the court that neither his client nor his wife Amanda could remember giving the instruction to remove the bridle.
The inquest is being held at Bury St Edmunds Farmers Club.