'Dangerous' pit bull with no teeth gets stay of execution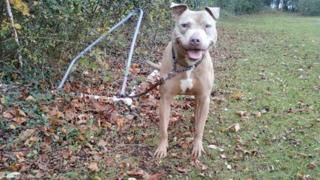 A pit bull terrier with no teeth and mobility problems has been returned to his owner months after it was seized for being dangerous.
Eleven-year-old Buster was taken to police kennels from Mark Shirley's Ipswich home in July.
A petition for Buster's release on change.org had attracted more than 14,000 supporters.
Now magistrates in Ipswich have said the dog can be returned to Mr Shirley, depending on conditions being met.
Mr Shirley, 28, said he took ownership of Buster in February, as his previous owners were moving abroad.
Pit bulls can be kept if an exemption is granted.
"He's a pit bull, which is one of the banned breeds and you should have them exempted, but I didn't have him long enough to get anything done - not even get the microchip updated," said Mr Shirley.
'Muzzled'
Buster was seized by police under the Dangerous Dogs Act.
"Buster was not aggressive, he's not dangerous, he hasn't got any teeth," said Mr Shirley, who believes the lack of teeth is due to his age.
"He's got mobility issues as well - he's got bad hips so he can't jump or climb up stairs."
Mr Shirley appeared at South East Magistrates' Court at the end of September and was told Buster could return home.
But he was told the dog would be destroyed if conditions were not met.
"As an exempted dog I can't let the children walk the dog, he must be muzzled at all times whilst out of the house, he must remain on the lead, have a suitable collar with a tag on it, he's got to be microchipped and neutered - which are ready to be done," Mr Shirley said.
He pleaded guilty to possessing the dog and was ordered to pay £85.
Mr Shirley, who has five children, said he was "absolutely delighted" that Buster would be home soon.
"I wouldn't have him here if I didn't trust him with the kids," he said. "The only thing he's dangerous to is the basketball."
A spokesperson for Suffolk Police said Buster was taken after receiving reports of a dangerous dog being kept at an address in Ipswich.
"Under the dangerous dogs act further enquiries were carried out to establish the full circumstances and following this a decision was made to execute a warrant at the address," the spokesperson said.
"Buster the dog currently remains in police kennels where he is being looked after by trained staff.
"He will be returned to his owner provided they abide by the conditions imposed by the court."