Carole Jane Bullett inquest told of 'agitated' horse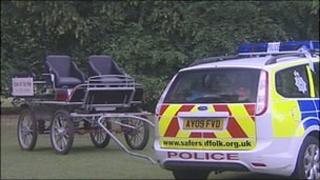 A inquest has heard how a horse was "agitated" before it bolted and killed a 57-year-old woman at a country fair in Suffolk.
Carole Bullett, from Bury St Edmunds, died after a horse and carriage went into the crowd at the town's Nowton Park in June last year.
A coroner's court heard from a witness who said she decided not to take her children for a ride on the carriage.
Vicky Bond said the horse looked "agitated and unhappy".
Mrs Bullett, who was visually impaired, was hit by the horse and carriage in the late afternoon on 20 June, 2011.
A post-mortem examination showed she died from chest injuries at Addenbrooke's Hospital, Cambridge the day after.
'Skittish' manner
Ms Bond told the court she had seen the animal's minder trying in vain to hold on to him before the horse broke away.
She then heard the minder telephone for assistance and say, 'You're going to have to get back here - Lucas has gone mad'.
Another witness, Kathleen Brazier, told the hearing she had been involved with horses since childhood and, earlier in the day, had seen one of the animals in a pen behaving in a "skittish" manner before it leapt over the barrier.
Ms Brazier said she had later gone for a ride in one of the carriages, but the driver had been unable to get the horse to move so they had had to get into another carriage.
The inquest also heard from Geoffrey Kenrick, who was struck in the back and winded by the carriage when the horse bolted.
He was treated at the West Suffolk Hospital and said he was laid up for a week but had now "almost recovered". His wife also received bruises and had to have time off work.
The jury inquest at Bury St Edmunds Farmers Club continues, although it is not sitting on Thursday or Friday.