Walberswick parish councillors quit over FOI requests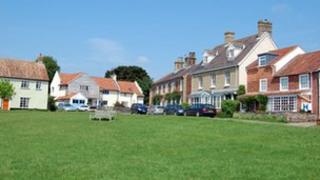 Councillors from a Suffolk seaside parish council have resigned en masse.
The five representatives from Walberswick Parish Council quit after being "bombarded" with Freedom of Information (FOI) requests.
Former chairman David Webb said too much time and money was being spent on replying to correspondence from a "tiny minority" of residents.
One of the residents, John McCarthy, said the requests were "valid" and called the resignations "appropriate".
The Freedom of Information Act allows individuals to ask questions of public authorities.
Mr Webb, who had been involved with the council for about eight years, said he agreed with the principle but said it was being "misused by some people".
'Watch every penny'
He said four households had been issuing FOI requests for the past two and a half years.
"Our clerk, acting on behalf of the council, has to answer all these FOI requests and that has been taking so much time," said Mr Webb.
"We've been paying her so much overtime that the parish council is having to watch every penny."
He said the council was running out of money and had had to abandon plans including an electronic speed monitor on a village road.
"If our clerk gave them an answer and they didn't like it, they would ask for a review.
"If they didn't like the review they would appeal to the information commissioner, who would then contact the clerk who would have to do more work."
'Apology'
Mr Webb said he did not know how many FOI requests had been lodged to date, but had previously said it was more than 100.
Mr McCarthy welcomed the resignations but said he wanted an apology from the council for how he has been treated.
He said he had been excluded from parish council meetings and been derided for asking what had been discussed in his absence.
"The Freedom of Information requests are valid Freedom of Information requests about the running of Walberswick Parish Council," he said.
"The ones that are outstanding are outstanding because they have chosen not to answer them.
"I want the answers because the answers are about valid issues about information that I am entitled to by law."
Mr McCarthy said he had been ostracised from parts of the local community and wanted an apology for the way he has been treated.
Elections will be held for new parish councillors.