Ipswich Hospital fined £1.2m for not meeting targets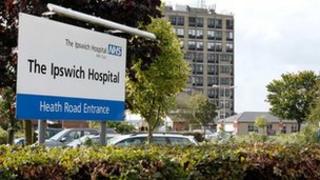 Ipswich Hospital has been fined £1.2m for failing to achieve targets for patients between April and August this year.
The hospital has to pay penalties if it does not meet the requirements of its contracts with NHS Suffolk.
A £384,000 penalty was incurred for not reaching the target for treating referrals from GPs within 18 weeks.
The fine of £118,000 was issued for failing to send patients' medical notes on to GPs within 24 hours of discharge.
Other penalties included £355,000 for failing to meet targets with outpatient appointments and £141,000 for not seeing cancer patients within target times.
An Ipswich Hospital spokesperson said: "Against the vast majority of performance indicators, we are performing, but we know that not all our areas are currently meeting every local contract standard.
'Necessary changes'
"Ultimately financial penalties can be imposed, but we have ongoing discussions with NHS Suffolk whenever we have challenges in delivery."
The hospital, which has an annual budget of £250m, agreed to national and locally set standards with NHS Suffolk.
Tracy Dowling, deputy chief executive for NHS Suffolk, said: "Where these standards are not met and performance quickly remedied, NHS Suffolk applies the terms of the pre-agreed contract.
"NHS Suffolk would much prefer that Ipswich Hospital delivers the standards of performance for patients, as defined in the contract.
"NHS Suffolk has agreed a significant investment for the transformation of services to assist Ipswich Hospital in making the necessary changes to be more efficient and effective in future."