Bridle taken off horse which killed Carole Bullet, inquest hears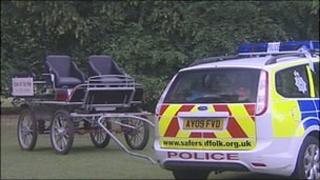 A 57-year-old woman died after a horse which had its bridle taken off to allow it to feed bolted and ran into a crowd of spectators, an inquest has heard.
Carole Bullett, from Bury St Edmunds, was at a country fair at the town's Nowton Park in June last year when the horse and carriage went into the crowd.
Mrs Bullett, who was visually impaired, died at Addenbrooke's Hospital, Cambridge the following day.
The inquest at Bury St Edmunds Farmers Club continues.
The jury at the inquest heard a statement from Mrs Bullett's husband, Alan, describing her as a loving wife, mother and grandmother who was devoted to her family and friends.
She was at the fair with her daughter and seven-year-old grandson when the accident happened.
Malcolm Crowther, speaking for the Health and Safety Executive, said the woman looking after the horse, Lucas, had been told by the owner to remove the bridle and replace it with a lighter head collar, to allow him to feed.
While she was holding a lead rope and hay bag, something startled him and he bolted, the inquest heard.
A post-mortem examination found that Mrs Bullett died of chest injuries.