Serco takes over NHS Suffolk Community Healthcare services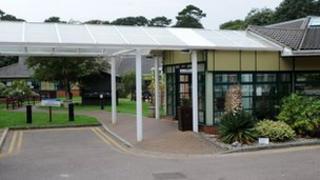 NHS community services in Suffolk, including nursing and community hospitals, have transferred to a multi-national private company.
Serco will run Suffolk Community Healthcare for three years.
The £140m contract from NHS Suffolk also includes speech and language therapy and specialist dental services.
Tracey Dowling, deputy chief executive of NHS Suffolk, said: "We are confident patients will continue to receive well-managed and effective NHS care."
Serco already runs Braintree Community Hospital in Essex and out-of-hours GP services in Cornwall.
Its new contract includes running the community hospitals in Aldeburgh, Felixstowe and Newmarket.
'Worrying day'
Serco said patients should not notice any changes and can access NHS services the same way as before.
Tim Roberts, from the union Unison, which represents some NHS workers, said it was a "worrying day".
"We believe the NHS is better run by a not-for-profit organisation so any savings are ploughed back into services rather than shareholders," he said.
"NHS Suffolk has stipulated the services which [Serco] have to continue to deliver and a minimum number of staff which are needed, but we cannot understand how they can deliver that contract for the money they're saving.
"We are sceptical but we will work with them in a constructive way."
Sharon Colcough, director of community services for Serco, said: "We know that some of the roles will change, but we have consulted with the staff.
"I can't sit here and say there won't be any changes, because there will be a new delivery model, but I can promise you there will be better care and our staff will be involved in defining and looking at that."