Bishop of Dunwich Clive Young to retire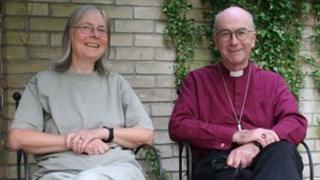 The Bishop of Dunwich is to retire after 40 years of service for the Church of England.
The Right Reverend Clive Young is Suffolk's second most senior Anglican clergyman after the Bishop of St Edmundsbury.
Bishop Young, who will be 65 next year, said: "I've been here 14 years which is a good time to retire and move on to the next stage of life."
The bishop intends to retire to Herefordshire with his wife Sue.
Bishop Young went to school at King Edward VI Grammar in Chelmsford and then to St John's College in Durham.
Leave them 'wanting more'
He was ordained as a deacon in 1972 and has served in London as rural dean of Tower Hamlets, vicar of St Andrew in Holborn and archdeacon of Hackney before coming to Suffolk in 1999.
"Leaving people wanting more, rather than repeating myself is the advice I have given to others, but I hope to continue to be of use to the Church in some part of England."
The Right Reverend Nigel Stock, Bishop of St Edmundsbury, said: "I am so grateful for his friendship and support and many people testing their vocation to, or undergoing training for, ministry of all kinds will have experienced Clive's wise and gentle support."
Bishop Young will retire after a cathedral service in Bury St Edmunds on 12 May 2013.
The title of Bishop of Dunwich dates from the 7th Century before the cathedral and most of the town was lost to the sea.
The modern use of the title dates from 1934, when it was given to the Bishop of St Edmundsbury's deputy, or suffragen bishop.