Cupola House fire: Medieval well found in Bury St Edmunds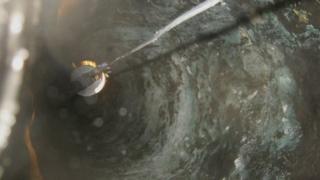 Engineers rebuilding a 17th Century house in Bury St Edmunds which was destroyed by fire have discovered what is believed to be a medieval well.
The Strada restaurant, which occupied the listed Cupola House, caught fire in June.
Work on restoring it is under way and architects must decide whether to cover up the well or turn it into a feature.
Engineers said the well is 9m (30ft) deep, is structurally stable and has no water in it.
David Clarke, project engineer with Richard Jackson Ltd, said: "None of the learned parties who have been advising us during this rebuilding process had identified its presence, so it was completely unexpected.
"Due to abstraction over many years, the water table in Bury is now below the bottom of the well.
"As the project evolves we will need to decide whether the well will be covered up again or turned into a feature with glass over it so that people can see down it."
The engineers said the well was cut in the chalk and had not been lined with brick.
It was found under the cellar which had been the kitchen of the restaurant.
The five-storey building was constructed in 1693, so the well pre-dates that, and the Suffolk Archaeological Service is expected to carry out more research to try to date it more precisely.