BT picked for Suffolk superfast broadband contract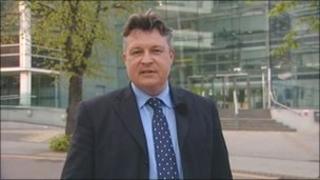 BT will be given the task of supplying superfast broadband to 85% of Suffolk households and businesses by 2015.
Suffolk County Council announced the company as its preferred supplier for the £41m roll-out project, which will begin before the end of the year.
Superfast broadband is considered to be speeds in excess of 24Mbps.
Council leader Mark Bee said that within three years broadband access in Suffolk would be "unrecognisable from what it is today".
'Rural priority'
Mr Bee added: "Improving access to broadband is going to help Suffolk's economy grow by as much as 20% and create up to 5,000 new jobs."
He said priority would be given to rural areas of the county where broadband is not currently available.
Suffolk County Council had previously stated that the entire county would have superfast broadband by 2015, but at the cabinet meeting this was revised to 85%, with a speed of at least 2Mbps promised county-wide by that date.
The council's cabinet also agreed to add an extra £1.3m to the project, having already committed £10m.
The government has contributed £11.6m to the scheme and the district and borough councils have given £300,000.
Suffolk County council said a contract with BT should be finalised next month.