Frithy Wood, Lawshall to be restored using lottery cash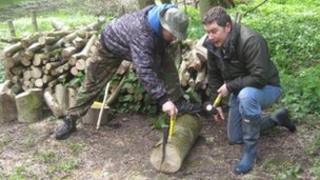 An ancient Suffolk woodland is to be restored to its traditional managed state following the award of a £405,000 grant from the national lottery.
The Green Light Trust will buy Frithy Wood in Lawshall which is believed to date from the 16th Century.
The trust said it will re-introduce coppicing of trees and open up paths to encourage woodland insects and birds.
It will also teach conservation, carving and fence-making using coppiced wood.
Mark Pritchard, chief executive of the trust, said: "It's a fantastic woodland and this is a great chance to restore it back to its original state.
"Lots of woodland was cleared for agriculture, but lots of communities derived their livelihood from woodland, so there's a real connection between the woodland and our existence."
The trust said it still had to complete the purchase of the woodland for an undisclosed price, but it expected to begin the restoration project next year when it will hold open days for the public volunteers.