'Suffolk Baccalaureate' proposed by education authority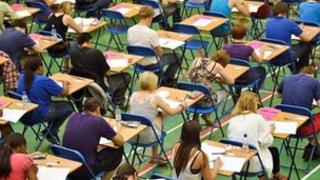 Schools in Suffolk are being asked to work with local businesses to introduce a 'Suffolk Baccalaureate' qualification.
A commission appointed by Suffolk County Council is proposing children should study for the extra qualification alongside GCSEs.
It said it aimed to recognise skills such as working in teams, self-motivation and flexibility.
Some head teachers and business leaders are welcoming the idea.
Graham Newman, cabinet member for education at the council, said: "What we're trying to do is foster a situation where young people understand what the requirements of employment are, particularly with self-management.
"It does require employers to be working closer with our schools and recording what people have done in terms of their personal growth and that's what the Baccalaureate will comprise.
"We're at the very early stages, so there's no-one walking in with a syllabus yet and this is all still to be worked out."
'Devil in the detail'
The council is working with the Royal Society for the encouragement of Arts, Manufactures and Commerce (RSA), which has been appointed to lead the council's Raising The Bar commission on educational standards.
The qualification would be called the Modern Baccalaureate for Suffolk and it would be assessed without examinations.
It is distinct from the English Baccalaureate which the government recently announced.
Joe Hallgarten, director of education at the RSA, said: "It will ask what particular skills people might need to access the industries that are growing in Suffolk - for instance the energy sector and hospitality.
"None of this stops children focussing on academic subjects, but it will record their other skills, experiences and achievements."
The council has been outlining the idea to 30 head teachers, but said it will be up to individual schools to decide whether they want to offer it.
Paul Winter, chairman of the Suffolk Branch of the Institute of Directors, said: "Clearly the devil will be in the detail, but we do need to do things that make youngsters more employable and it is things like teamwork, communication and the ability to be self-motivated."