Stowmarket house demolition plan opposed by Victorian Society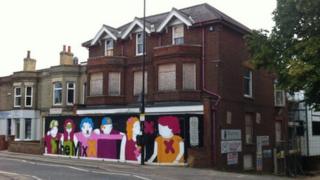 Campaigners want to save a house in Stowmarket which is set to be bulldozed to make way for a £5m youth centre.
Suffolk County Council is already building the rest of The Mix to the rear of the house on Ipswich Street.
It said the cost of renovating the house was too expensive and demolition was the only answer.
James Hughes, from the Victorian Society, said: "Just because a developer says costs have risen is not a reason to throw away our heritage."
The council said its initial plan to incorporate the three-storey house for The Mix would cost £360,000, but further study showed that rose to £593,000.
The council is seeking planning permission to demolish the house and replace it with a new frontage costing £460,000.
Adri van der Colff, project manager for the council, said they were "sensitive" to the heritage argument.
"The original intention was to preserve this building, but it turned out it was in a far worse condition structurally than we anticipated and uneconomic to repair it," she said.
"It would be very difficult to find the extra money in the current climate and we need the project up and running for the benefit of young people."
Mr Hughes said: "This sort of building is what characterises conservation areas and, in the context of this large project, it's not too great a cost to pay for what is a handsome building.
"If councils give in to this level of argument much of our historic environment would end up being replaced by small cheap blocks of flats or offices, just because they're easier or cheaper to build."
Final decision
Mid Suffolk District Council will offer its recommendations next week.
Suffolk County Council, which is the planning authority for the project, is due to make its decision on demolition and planning permission for the new frontage in October.
Because the building is in a conservation area, the final decision rests with the government's Department for Local Government and Communities.
The project managers said the work to the rear of the house should be complete in March 2013.