Ipswich Town honours Paralympians with parade at Portman Road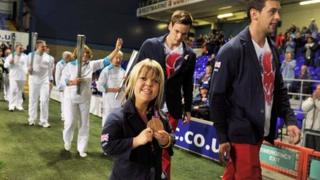 Suffolk's Paralympians have been honoured with a homecoming reception at Ipswich Town Football Club.
Power lifting bronze medallist Zoe Newson was among the three athletes who did a lap of honour ahead of the match against Wolves at Portman Road.
The parade also featured seven Paralympic torch bearers.
Ms Newson, 20, from Bergholt, said: "Everyone was standing up and clapping, including the Wolves fans who were amazing as well."
The crowd for the match, which ended Ipswich 0-2 Wolves, was 16,540 and BBC Suffolk's commentary team estimated 10,000 watched the parade.
Suffolk County Council held a civic reception for the athletes and other guests at Endeavour House before the match.
Village mayor
Ms Newson said: "It felt great walking around Portman Road as I used to be a season ticket holder and everyone was saying: 'Well done'.
"Most people were saying London 2012 was over with the Olympics, but nights like this show the Paralympics really caught people's imagination and hopefully more people will get involved in disabled sport."
Also appearing were the shot-putter Jonathan Adams, from Great Cornard, and Scott Moorhouse, the javelin thrower from Ipswich.
Eva Loeffler, who is the daughter Dr Ludwig Guttman who founded the Paralympics, came from her home in Aldeburgh to attend the parade.
She was Mayor of the Paralympic village during the games.
"It's been so special because it has made people see sportsmen who are disabled as sportsmen," she said.