Ipswich town centre offered help from Sir Stuart Rose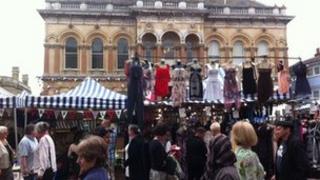 An offer from a shopping guru to help Ipswich town centre with a £200,000 proposal has been taken up by the borough council.
Sir Stuart Rose, the former chief executive of Marks & Spencer, addressed a conference about retailing.
He proposed to move the market off Cornhill to keep it as an open space.
Ipswich Borough Council said the money is available if the plans are viable, but market traders said they did not want to move.
Sir Stuart, who lives near Ipswich, said his ideas would cost £200,000.
"Cornhill is a bit shabby and you could make that some natural congregation point for events and music that make people say 'I want to get into Ipswich on a Saturday morning, because it's fun'," he said.
'Non-starter'
"A lot of this is about small things like more trees, more benches, more entertainment going on and more covered areas in case it's raining."
The council-run market is on Cornhill on Tuesdays, Thursdays, Fridays and Saturdays.
Mike Young, fishmonger and spokesman for the market traders, said: "The man has achieved so much you have to take him seriously, but to think Ipswich is like Covent Garden with a piazza and fountain - I don't think [moving the market] should be considered.
"Lloyd's Avenue is a non-starter because it's on a hill.
"We've tried other places and failed miserably."
David Ellesmere, the Labour leader of Ipswich Borough Council, discussed Sir Stuart's ideas with him.
"We've got one of Britain's top retailers who's offered to give us free advice and we should take that up, but we've got to say 'these are the reasons this hasn't happened before' and ask 'what is your solution to get round those?'.
"We need a thriving market, but we would need to have a suitable alternative location and I've never had one presented to me yet.
"I'm not convinced it's as easy as he thinks it is, but we are prepared to make the money available and work with him to try and come up with something."