Ipswich Hospital car park charges cut for visitors but not staff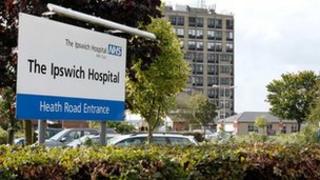 A Suffolk hospital is to cut car park charges for visitors, but increase them for staff.
A two-hour stay for visitors to Ipswich Hospital has been cut from £2.80 to £2, while a half-hour stay, which was 90p, will now be free.
For staff, a day's parking will go up by 20p to £1.70 with a monthly pass up from £26 to £28.
A patient group welcomed the cuts, but union Unison said the rise added to the "financial hardship" of health workers.
Jeff Calver, associate director of estate at the hospital, said: "We've listened to what patients, visitors and staff say about car parking and hope these new changes will greatly improve people's experience of using the hospital car parks.
"We have promised that over the coming months we will invest more of the money received from car parking charges in cycle racks and shower facilities to support people cycling and walking to work."
'Concerned'
Other changes for visitors include a three-hour stay being reduced from £4.10 to £3 and a four-hour stay going down from £5.40 to £4.
Tony Ramsey, chairman of the Ipswich Hospital User Group, said the changes were "sensible".
"In an ideal world, the hospital would not have to charge for car parking, but the reality is that it does have to to pay for much-needed improvements and to manage the car parks in a safe and secure way," he said.
"But we have at least convinced them to reduce the cost."
Tim Roberts, regional organiser for Unison, said members were "concerned".
"On the face of it a 20p a day rise doesn't sound much, but we should remember NHS staff have had a pay freeze since 2010 and this means, in real terms, their pay is down by nearly 10% due to inflation and this creates more financial hardship," he said.
"Staff were informed and they made their objections clear, but the hospital has made its decision."
The changes will be introduced on 1 October for visitors and 1 November for staff.