David Brown sentenced over animal cruelty in Ipswich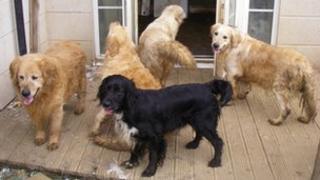 An Ipswich man has been sentenced to 200 hours of community work after seven dogs and 14 cats were found at his house living in their own excrement.
David Brown, 50, of Bonny Crescent, pleaded guilty to four charges of causing unnecessary suffering and failing to ensure animal welfare.
Magistrates in Ipswich have also banned Brown from keeping animals for life, except for cats.
This was because he lives with his partner, who owns three cats.
The court heard RSPCA officers first went to Bonny Crescent in December and offered to help and re-house the pets.
In June, a search was carried out and five golden retrievers, two spaniels, 13 cats and a fish were found with another cat found a week later.
'Hefty sentence'
The RSPCA found some of the dogs had matted hair and wasted muscles.
Insp Marc Niepold, from the RSPCA, said the stench and conditions were the "worst he had ever seen".
"That's a pretty hefty sentence," he said.
"I think he genuinely cared about them, but he just couldn't cope in the end and I just wish he'd accepted our offers.
"Keeping an animal is a privilege and a luxury and if you can't afford it or don't have the time, then you shouldn't have them."
The defence solicitor said Brown had been living at another address in Ipswich with his partner and son.
New homes
The court heard his partner had been ill, Brown became depressed, lost his job and car and things "got out of hand", but the animals were being fed.
The RSPCA said it had already found new homes for five dogs and five cats.
Linda Day, of Ipswich, has taken on one of the golden retrievers and she felt the sentence was "lenient".
"The animals suffered tremendous trauma and the only good thing that's come out of this is that they have been re-homed and the remaining ones have been handed over to the RSPCA.
"[Our] dog is still nervous when she's out, because she's not used to being walked.
"I hope he's learnt his lesson and can never have an animal again."
Brown, a self-employed IT consultant, declined to talk to the BBC after the sentencing.
Magistrates said it would be two years before he could apply to have the banning order lifted.