St Jude's Brewery Tavern in Ipswich to reopen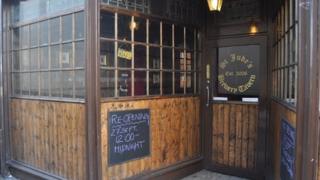 A real ale pub is to reopen in Ipswich, just four months after it closed.
St Jude's Brewery closed its pub on St Matthew's Street in May, 14 months after it opened, citing a downturn in business and health reasons.
But Colleen Seymour, who will again manage the pub with Frank Walsh, said St Jude's Brewery Tavern will reopen on 27 September due to "popular demand".
Ms Seymour said it would initially be open for three days a week, Thursday-Saturday, to "test the waters".
Mr Walsh and Ms Seymour started St Jude's Brewery in 2006, making ale on Cardigan Street in the town.
They opened the pub in Ipswich and another in Felixstowe before they started experiencing financial difficulties.
Mr Walsh said they had declared the company insolvent in May as it ran out of liquid assets.
The owner of the building which houses the pub in Ipswich has now taken over the company and has asked the couple to manage it, said Mr Walsh.