Paralympians, torch bearers and games makers to be honoured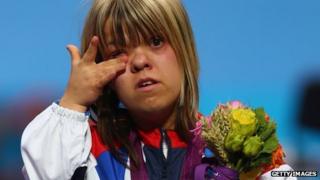 Suffolk's Paralympians are to be honoured with a homecoming reception and a lap of honour at Ipswich Town Football Club.
The athletes, including powerlifting bronze medal winner Zoe Newson from East Bergholt, have been invited to the celebrations on 19 September.
The parade ahead of the match with Wolves will also feature Paralympic torch bearers from the county.
An event is being planned for October to honour Games Makers from Suffolk.
Suffolk County Council said the reception at its Endeavour House headquarters and the parade for those involved in the Paralympics would mirror last month's celebrations for Olympic athletes from the county.