Ipswich waterfront Saxon dig unearths 300 graves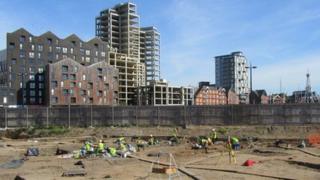 An archaeological dig at Ipswich waterfront has unearthed 300 skeletons and evidence of an old church.
The excavation is taking place before 386 homes are built on Great Whip Street by Genesis Housing Association.
It is believed the Saxons occupied the site in the 7th Century and burials are believed to have taken place there until the 16th Century.
Rubbish pits were also uncovered during the dig, led by Oxford Archaeology and Pre-Construct Archaeology.
Paul Murray, senior project officer with Oxford Archaeology, said: "A certain amount of historical research was done before we got here, so we had a general idea of what to find, but this has exceeded our expectations.
Church 'robbed'
"We had evidence that a church was in the area, but we've uncovered its location, so it's a significant find.
"Many churches fall into disuse, deteriorate, whatever's left is robbed for the materials and it falls out of living memory."
Seventh Century burial mounds have been found at one end of the 2.8 acre (1.15 hectare) site, while the 9th/10th Century church and its graveyard were found at the other end.
Helen Webb, who is overseeing the study of the skeletons, said: "We're got the full range of ages, but it's the normal cemetery population with lots of the very young and very old dying.
"Once they're excavated, the skeletons will be analysed to estimate age, sex and look for joint disease, scurvy, rickets and that sort of thing.
"Then they will be re-buried in consecrated ground as close to this site as possible."
'Paupers' cemetery'
The graves have already revealed cases of leprosy and syphilis, but no jewellery or other artefacts have been found.
Mr Murray said: "More commonly you'd have shroud pins, but we've not had them either, so we're assuming it's a paupers' cemetery."
Genesis, which is paying for the archaeological work, is due to begin building the new houses and apartments in October, covering up the former graves.
Mr Murray said: "There's a certain amount of disappointment, but archaeology is a process of preservation by record and the work will add to the overall knowledge of the history of Ipswich."