Newmarket sausage firms seek European protected status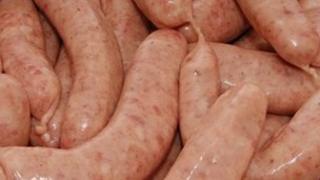 A group of Suffolk sausage producers is close to finding out if their products are to get special status.
The three companies in the Newmarket Sausage Association have applied to the European Commission to gain Protected Geographical Indication (PGI).
It would mean only companies based in the town can call their products Newmarket sausages.
They expect to hear by the end of the month whether the bid has been successful.
The attempt to gain PGI status was started by Musk's Sausages ten years ago.
However, the idea was delayed because Powter's of Newmarket did not want to divulge the recipe for its sausages, but those problems have been overcome.
Different products
Chris Sheen, managing director of Musk's, said: "It was really just a question of agreeing the common ingredients rather than having a unified recipe.
"Obviously the different firms's sausages are not all the same, but then nor are Melton Mowbray pies [which also have PGI status].
"If we get the status, it'll make the Newmarket sausage much more widely known and we'll be mentioned in the same breath as champagne, Parma ham and dozens of cheeses and beers."
Eric Tenant Butchers is the third Newmarket firm behind the application, which has been made through the UK's Department for Environment, Food and Rural Affairs (Defra).
Defra confirmed the period for objections to be lodged with the European Commission ends on 7 September and a decision on PGI status is expected later in the month.