Paralympics Games: Founder Ludwig Guttmann would be 'proud'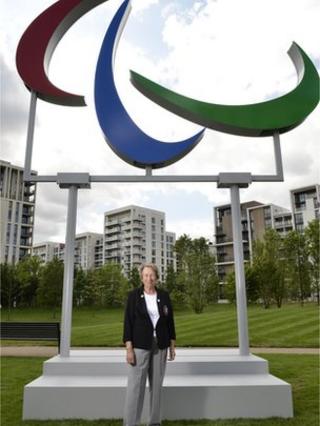 The daughter of the founder of the Paralympics says her father would be "immensely proud" of what the Games has become.
Eva Loeffler, who lives in Suffolk, has been involved with the Games since its first incarnation at Stoke Mandeville Hospital, Buckinghamshire, in 1948.
Her father, neurologist Sir Ludwig Guttmann, arranged for patients from two hospitals to compete.
"I was a teenager and I can't remember an awful lot about it," said Ms Loeffler.
"I think there were seven athletes from each hospital and they had a competition doing archery and javelin throwing.
"My father started disabled sport as a way of rehabilitation - training the muscles that paraplegics had left."
Rome 1960
Ms Loeffler said Stoke Mandeville Wheelchair Games was held on an annual basis until her father had the idea of running them parallel to the Olympics, every four years.
"The Rome games (in 1960) were the first, with 300 wheelchair athletes," she said.
"It was over 50 years ago and things were very different then - just getting the wheelchair athletes to Rome in an aeroplane."
Ludwig Guttmann, who had fled Nazi Germany with his family, became Sir Ludwig in 1966.
He died in 1980, having seen his idea to motivate patients become a worldwide movement.
"The last games he saw were the 1976 games in Toronto, which were the first true Paralympic games with all the other disabilities - the amputees, the blind, the cerebral palsy - joining in," said Ms Loeffler.
"It was wonderful for him."
Ms Loeffler said her father was a pioneer and visionary, who in 1956 had predicted that disabled people would one day take part in the Olympic Games.
So the sight of double amputee Oscar Pistorius competing against able-bodied athletes in London would not have surprised him, she said.
"His dream has come true," she said. "He just realised that things would go forward - he was not one to look back at all."
As mayor of the Athletes' Village, Ms Loeffler will welcome South Africa's Pistorius and 4,232 other competitors to London.
"I have been involved for several years but this position is a great, great honour and I'm having the most amazing time being mayor of the Paralympic village," she said.
From the "amazing" food, "fantastic" accommodation and sold out venues, Ms Loeffler said her father would be impressed with London 2012.
"I think he would be immensely proud of what has happened," she said.
"For future Paralympic Games it shows they are in no way second class Games, they're parallel Games.
"Paralympians are not disabled people doing sport, they are sportsman who happen to be disabled."