Blackadder's Helen Atkinson Wood fined for car phone use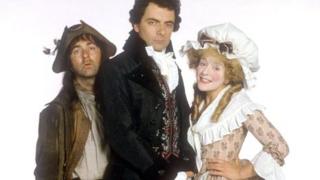 One of the stars of the Blackadder series has been fined for using a hand-held phone while driving in Suffolk.
Helen Atkinson Wood, 57, of Bulcamp Drift, Blythburgh, admitted using the phone in Southwold, Suffolk, in June.
She was fined £60 by magistrates in Lowestoft, ordered to pay £85 court costs, £15 to a victims of crime fund and given three points on her licence.
The actress, who played Mrs Miggins in the BBC comedy, was caught while driving a Fiat Punto on Station Road.
Atkinson Wood did not appear in court, but pleaded guilty by post.
In a letter to the court, she apologised and said she was "not in the habit of doing that".
She also wrote that her husband had been about to go into hospital for a serious operation and she had been having to make more phone calls than she normally would.
However, she said that was no excuse for the offence.
Atkinson Wood is also known for appearing in BBC Radio Four's Radioactive news spoof with Angus Deayton and in its television version, KYTV.