Suffolk County Council completes handover of libraries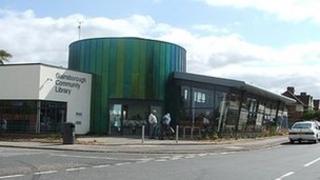 The day-to-day running of Suffolk's libraries has been relinquished by the county council in the hope of saving £2.6m a year.
An Industrial and Provident Society (IPS) is now in charge of the county's 44 libraries and will run them with the help of community groups.
The council says this will mean none of the libraries will have to close.
Liz Williams, who campaigned against potential closures, said the library service was being "hollowed out".
She welcomed the news that the libraries, including her local Rosehill Library in Ipswich, would remain open but questioned whether they could survive if they were dependent on community support.
'Feels insubstantial'
"The funding isn't going to be there, irrespective of what's being said," she said.
"They're saying the IPS can run the service much more effectively and on less money. But it feels quite insubstantial - you don't know what's going to happen."
The council said the transfer to the IPS would reduce the amount it spends on libraries from nearly £9m in 2010-11 to £6.4m in 2012-13.
It said the IPS' charitable status would enable it to secure additional funding, benefit from rate relief and cut the "cost of bureaucracy".
All library staff have been transferred from Suffolk County Council to Suffolk's Libraries IPS.
'Bigger things'
Councillor Judy Terry, cabinet member for libraries, said: "The future of all of Suffolk's libraries is secure. That is something I am immensely proud and pleased to be able to say.
"By creating an IPS to take the service forward, we've found a way of saving money, opening up new funding opportunities and given community groups a real say in how the service is delivered."
Shona Bendix, chairman for the IPS, said she was confident the group had "found a way to take Suffolk's library service forward to bigger and better things".
A spokesperson for the council said the contract with the IPS was for five years, but would be reviewed on an annual basis.