Tributes to Thee Vicars guitarist Chris Langeland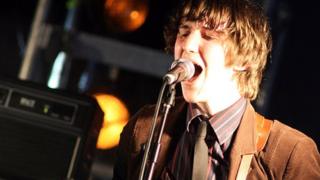 Tributes have been paid to a 22-year-old guitarist from Suffolk who was found dead at his home in London.
Chris Langeland played with several Bury St Edmunds-based bands including Thee Vicars and Generation of Swine.
His sister, Frankie Langeland, said: "Chris was an amazing son, grandson, brother, nephew and cousin.
"Our family are devastated at his loss and we are grateful for the support we have received from his friends and admirers of his music."
Lee Sullivan used to manage Thee Vicars and played with Mr Langeland in The Wailin' Yeahs.
He said he travelled with Thee Vicars to play 240 gigs in 18 different countries over a two year period.
"We had the time of our lives and got to see so many places and experience things most 18-year-olds could only dream of," he said.
'Tragic ending'
"It breaks my heart that Chris has gone. He was good at everything he did from sound engineering and recording to making all kinds of music and artwork.
"It's such a sad and tragic ending to someone with so much ahead of them."
Thee Vicars posted a message on their Facebook page, saying "he was truly one of a kind and the most amazing life long friend".
Jim Crick, Generation of Swine, said Mr Langeland was a flamboyant character who always made the rest of the band laugh.
"He was the kind of guy who turned up to play a Saturday afternoon gig in Bury town centre dressed in a Stevie Ray Vaughan poncho and his pants - no shame at all.
"He was like a kid brother to us all and he is utterly irreplaceable."
Mr Langeland had recently moved from Bury St Edmunds to Hackney.
The Metropolitan Police said they were called to an address on Poole Road last Thursday morning.
They said they were not looking for anyone else in connection with Mr Langeland's death. An inquest will be held.