Southwold bus changes damaging trade, businesses say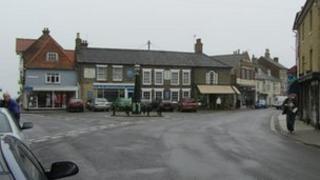 Traders have called for a full study into an 18-month trial in which buses were banned from Southwold High Street to try to ease congestion.
The town council was behind the policy to move the bus stop from the Market Place to the other end of the High Street in July 2011.
Some traders said it was affecting them as people had to walk an extra 330 yards (300m) to get to the main shops.
The town council said it would review the success of the scheme in August.
Buses used to stop at the Market Place, but they now have to stop outside the King's Head pub.
The East Suffolk Travellers Association (Esta) said it carried out a survey which showed nearly 80% of people did not like the new arrangement.
'Detrimental' scheme
Rod Lock, secretary of Esta, said: "Older passengers have got to walk further, often laden with shopping, and they're not offered the same protection from the elements as they were at the previous bus stop."
Guy Mitchell, who runs the post office and is chairman of the Southwold & District Chamber of Trade, said: "Some people have said they don't come to Southwold because the buses don't come all the way into town, and some traders at the Market Place say it's been detrimental to business.
"We believe there should be a quantifiable survey to assess its success, rather than relying on anecdotal evidence."
Michael Ladd, mayor of Southwold, said: "We've had mixed feedback from shops, but we've got to balance that against keeping the Market Place free of buses turning round.
"What we've got to do is take into account all the comments and we will do a consultation in August."
John Perkins, secretary of the Suffolk & Reydon Society, said: "It's certainly made things a lot safer for pedestrians.
"There is a question of whether businesses are suffering, but, on balance, we think the centre of Southwold is better for it."
A spokesperson for Suffolk County Council, which is responsible for bus routes, said: "The trial is still on-going and can in theory be in place until January 2013."
Southwold Town Council is discussing the bus policy on Tuesday.