Felixstowe Spa Pavilion put up for sale by council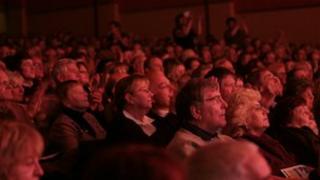 The Spa Pavilion in Felixstowe is to be put up for sale as the council rejected the sole bid to manage it.
Suffolk Coastal District Council said it would go to the open market to find other proposals for the building.
The community-based Spa Pavilion Associates's proposal to manage it as a theatre was deemed financially unviable by the council.
The local authority, which owns it, said it would use professional agents to market the 100-year-old building.
Geoff Holdcroft, cabinet member at the Conservative-controlled council, said: "We went to the market with the narrow definition of leisure and entertainment, we only got the single bid, so we're going to cast our net wider.
"We obviously don't want to see blocks of flats or an office block there and we want something that's going to add something to the lives of the residents and bring tourists to Felixstowe.
Demolition
"We'll go through a period of marketing and towards the end of October we'll reassess what the market's telling us."
The council said it would not demolish the building, but if a developer wanted to do that they would consider the plan within the context of the Spa's seafront setting.
The theatre is due to close in January when the current private operator's contract comes to an end.
The council said it could no longer afford the £250,000 annual funding it gives to the venue.