Coastal erosion: Southwold householders offered land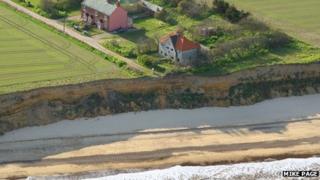 People with houses threatened by coastal erosion in Suffolk could be offered free plots inland.
Waveney District Council said nine homeowners at Easton Bavents near Southwold would be eligible to move to a field at Reydon.
The council has yet to buy the land and householders would still have to pay for the building of the new homes themselves.
A consultation is taking place from 25 July-8 August at Southwold Library.
The money to buy the land, which is a mile inland at Rissemere Lane East in Reydon, would come from the £1.5m the council got from the Department for Environment, Food and Rural Affairs (Defra).
The council is one of 15 local authorities taking part in Pathfinder pilot schemes to develop policies to help communities at risk of coastal erosion.
House or caravan
Councillor David Ritchie, Conservative cabinet member at Waveney, said the "underlying aim" of the proposal was to remove coastal blight.
"If you lose a house to the sea, you would have planning rights attached to the person, rather than the land," he said.
"It could be anything from a new house to a caravan on the new spot, but if you sold on there would be conditions attached so that cash would come back into the community."
Peter Boggis lives at Easton Bavents and has campaigned for compensation for householders since the Environment Agency and local authorities decided the coast to the north of Southwold should be left unprotected.
He said: "To have a site is helpful, but a lot of people will not be in a financial position to rebuild their homes and they won't be getting anything for their homes which are threatened with erosion.
"The project is in no way socially just.
"It should be compulsory purchase at the full replacement value of the property destroyed, as you would get if a road or railway was built."
Kathryn Savage, clerk at Reydon Parish Council, said: "We have only just received details of the consultation, which is there to gauge Reydon people's views and take into account what the Easton Bavents residents want themselves, of course."