Carer guilty of claw hammer murder of Paul Norfolk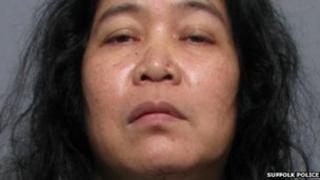 A carer who murdered a 77-year-old man in a brutal hammer attack after he changed his will to leave her £340,000 has been jailed for at least 11 years.
Bunthawee Rimmer, 49, was found guilty at Ipswich Crown Court of killing Paul Norfolk at his home at Castle Lane, in Haverhill, Suffolk, on 30 December.
Rimmer, who received a mandatory life term, was found next to Mr Norfolk in bed with her throat slashed.
Mr Justice Saunders said: "No-one deserved to die in such a brutal way."
Mr Norfolk died from 12 hammer blows.
The court heard Rimmer, originally from Thailand, claimed she was in a relationship with Mr Norfolk.
'Wickedly cruel'
She denied murder on the grounds of diminished responsibility.
Rimmer, also known as Pacer, moved in to Mr Norfolk's home in late 2010 to help care for his wife, Esme.
She stayed when Mr Norfolk's wife, who suffered a stroke and dementia, was taken into care.
Mr Norfolk changed his will in early 2011 to leave his house to Rimmer and then again in October 2011 to leave her any cash left from his estate.
Prosecutor Andrew Jackson told the court: "Whether or not she killed him for his money, only she knows.
"She did it by raining blows on to his head using a 16oz claw hammer. He did not move, he did not struggle.
"He was probably asleep when he was murdered."
Rimmer's late husband, Geoffrey Rimmer, who died from natural causes, was a close friend of Mr Norfolk and also lived in Castle Lane, Haverhill.
Mr Norfolk's brother and sister, Peter and Pansy, both in their 80s, paid tribute to their "very generous, kind and sympathetic" sibling.
In a statement issued through police, they said: "(We) are completely devastated by the wickedly cruel way in which our gentle, loving and much loved brother was taken from us."