Beccles Free School gets 37 applications for next year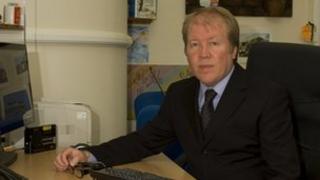 Opponents of a new free school in Suffolk say applications for 37 children to enrol make it "unviable".
The Seckford Foundation, which is behind the new Beccles Free School, said it still expects to fill its initial 162 places in September.
Opponents of the state-funded high school, which had government approval in May, say it should withdraw the plans to open.
They claim there are already enough places at existing local schools.
Suffolk County Council, which will have no responsibility for the free school but has details of pupil numbers, confirmed the number of applications made to Seckford.
Opponents said they collected a 3,000-signature petition against the free school.
'Waste of money'
Ian Goodyer, from the Suffolk Coalition Opposing Free Schools, said: "There's no credible evidence that anyone wants it.
"It's a massive waste of money - we're in the middle of an economic crisis and they want to spend millions of pounds."
The Beccles Free School is due to move in to the former Carlton Colville Primary School site, which has space for 162 children, in September 2012.
It would then move to a redeveloped site for 540 pupils at the former Beccles Middle School site in 2014.
The Seckford Foundation said it has had 106 "expressions of interest" from parents.
Graham Watson, Seckford's director, said: "Any proposer of free schools is likely to encounter opposition because it's designed to bring competition into a system where there hasn't been any before.
"We wouldn't expect applications to be much higher at this point because it's only been two or three weeks since the agreement that we could go ahead.
"Once the head teacher is on our staff on Monday, what tends to happen is that pupil numbers increase and we are expecting to reach the numbers that we planned for."
The existing Sir John Leman High School in Beccles has 1,350 pupils.
Jeremy Rowe, head teacher at Sir John Leman, said he wanted to see some "sanity" from the Department for Education and the cancellation of the free school plan.
"If we had lost pupils to the free school, we would have lost funding which would have reduced the courses and opportunities we could have offered to our remaining pupils," he said.
"As it stands the impact is negligible and we've had parents on the phone wanting to come back to us because a school of 37 is just not viable."
The Department for Education (DfE) said: "We expect pupil recruitment to increase steadily now parents have certainty that the school will open later this year.
"Standards in Suffolk have been below the national average for the last four years.
"The establishment of this Free School will drive up standards and provide greater opportunity and choice for parents and pupils."