Only one bid to run Felixstowe's Spa Pavilion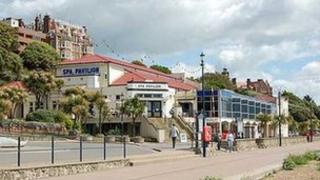 Only one group has bid to take over the running of a troubled Suffolk theatre.
The Spa Pavilion in Felixstowe is threatened with closure after owners Suffolk Coastal District Council voted to end its £250,000 annual funding.
The council said 12 organisations showed an interest, four visited the venue but only one made a bid.
The Spa Pavilion Associates, formed from members of the Save the Spa campaign group, will find out if its bid has been successful on 24 July.
The Conservative-controlled council has tendered the management of the venue to private companies for 20 years but will end the current contract with Openwide Coastal at the end of the year.
Councillor Geoff Holdcroft, cabinet member for economic development and leisure, said he was "really disappointed" to have received just one bid.
"We have the bid, we're going to appraise it fully and see if it's viable," he said.
Lisa Hardy, from the five-person Spa Pavilion Associates, said it was too early to celebrate and the group would await further questions from the council.