Alde and Ore estuary gets new flood defence partnership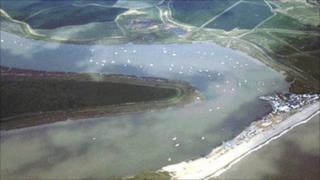 A new flood defence group has been formed to represent people living on a Suffolk estuary.
The Alde & Ore Estuary Partnership (AOEP) will include 12 landowners and parish councillors who will help create strategy and raise funds.
It will work with statutory bodies including the Environment Agency.
Mark Johnson, the agency's area coastal manager, said: "It's formalising the partnerships we've developed over the three or four years."
The tidal estuary covers an area from Shingle Street to Aldeburgh along the coast and inland to Blaxhall.
The AOEP will also work with Natural England, Suffolk County Council, Suffolk Coastal District Council and the Suffolk Coast & Heaths Area of Outstanding Natural Beauty.
Less money
Sir Edward Greenall, who has been involved in setting up the AOEP, said: "The [defence] walls were all built up to quite a good standard after the 1953 floods, but there's been a lot of neglect over recent decades.
"There's a catch-up expenditure needed to get them back to a decent standard which we hope to put into place.
"For many years defences have been managed by national money through the Environment Agency, but there is less money now.
"We rallied round locally and decided that we have to try and take a hand to take some control of what happens in the future."
The Environment Agency said it spent about £500,000 on flood defences in the estuary in 2011-12.
Mr Johnson said: "We have a finite amount of money to spend on defences and necessarily we are expected to prioritise to get the best value for the public purse."