Prolog: Sudbury warehouses 'will create 500 jobs'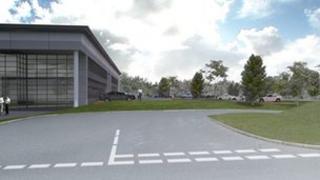 A market support firm says planning approval for its new £50m site means it can create 500 jobs in Suffolk.
Babergh District Council has granted permission for Prolog to build two large warehouses in Chilton, Sudbury.
Objections had been raised on heritage grounds about the development's proximity to St Mary's Church and Chilton Hall, which is Grade II listed.
Prolog, which already employs 430 people in the town, hopes to have the development ready within three years.
Some Babergh councillors spoke out against the development, which would have a combined floor space of 26,385 sq metres (283,902 sq ft).
Councillor Frank Lawrenson, who represents Chilton, said: "I feel that buildings like Chilton Hall and the church are of significant historic interest and we shouldn't be constructing buildings like these warehouses next to them.
'Very chuffed'
"Whilst I appreciate there is a great necessity for employment and I would seek to encourage local businesses to grow, I would rather see tourism and the environment given greater emphasis."
The company distributes products and provides customer services for clients. It said it would need computer analysts and programmers, call centre agents and warehouse workers.
Chairman Robert Audley said: "It's eight years since we bought the land, six years since the last application was accepted and overturned and we're very chuffed.
"It gives us the opportunity to develop our e-commerce capability that we've spent time developing in the east Midlands since we haven't been able to develop here.
"Our first application had three buildings of greater height and we did listen and reduce the height, so we did consult and I don't think we can do any more."
Peter Beer, chairman of Babergh's development committee, said the land was designated for employment and the project could create hundreds of jobs.