Plan to rebuild Southwold railway and Wenhaston station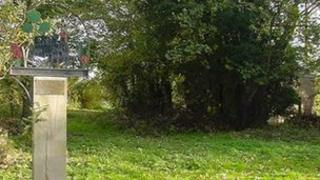 Railway enthusiasts in Suffolk are hoping to restore a line which closed more than 80 years ago.
The Southwold Railway Trust has applied for planning permission to restore half a mile of track, build a new station at Wenhaston and open a visitor centre.
Trains stopped running on the line in 1929 and much of the track was dismantled during World War II.
Simon Pitcher from the trust said it was a "once in a lifetime" chance to try and restore part of the route.
The line opened in 1879 and originally ran from Southwold to Halesworth.
Victorian design
The station at Wenhaston was abandoned and the original site is now privately owned.
A replica will be built nearby, if planning permission is granted by Suffolk Coastal District Council.
"The railway station that we're hoping to build would be something that would be designed to fit in to the landscape that would replicate the Victorian building that was originally there," said Mr Pitcher.
"It would enable a little bit of the railway to reopen with trains that are in keeping with the original character of the line.
"The Southwold Railway was a very eccentric railway built on a 3ft gauge, so a smaller gauge than normal British trains, and in that sense was unique in England."
Mr Pitcher said the charitable trust had the chance to purchase a piece of land on which the line used to run.
A public meeting discussing the plans will be held at Wenhaston village hall on 10 May.