Suffolk astronomer says wind turbine will ruin stargazing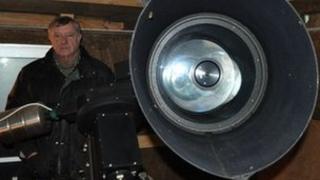 A Suffolk astronomer claims a proposed wind turbine near his observatories would ruin his scientific research.
Tom Boles, who works at home in Coddenham, searches for dying stars, or supernovae, and takes images of them.
He said vibrations from the proposed turbine at Coddenham Hall Farm would disrupt his computerised telescopes.
Officers at Mid Suffolk District Council are recommending planning permission for the turbine is approved. The farm was unavailable for comment.
Mr Boles has three research telescopes in two observatories in his garden, which would be 130m (142 yards) from the turbine.
Mr Boles said his research into supernovae has been used by most other major telescopes in the world and by scientists who work on measuring the expansion of the universe.
Blurred images
He said: "You get a constant vibration from these turbines which would build up small vibrations in my telescopes which would blur the images.
"It's a lovely view [from the house], but the real worry is the observatory - it would just destroy my retirement if it went away.
"The council needs to consider the visual impact, the evidence of vibration and what they would be taking away from the scientific community if they closed this observatory down as it would be an end to my research."
The proposed turbine hub would be 15.4m (16.8 yards) high and the blades would have a 21m (23 yards) diameter.
Coddenham Hall Farm was unavailable for comment while Mid Suffolk District Council said it would not talk ahead of the planning committee meeting on Wednesday.
In the council's committee agenda, a planning officer said he was satisfied the turbine would not have an "unacceptable impact on the ongoing viable operation of the observatory".
The council said it had received eight letters in support of the turbine and 38 objecting to it.