Bury St Edmunds avoids hosepipe ban for Anglia in Bloom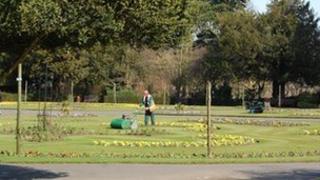 Bury St Edmunds will be allowed to water its public flower displays during the hosepipe ban.
The Bury In Bloom campaign organisers were worried they would not be able to use their bowser vehicle ahead of the Anglia In Bloom competition.
Anglian Water has said it can be used as long as it is not filled from the mains, but uses collected rain water.
Julia Rackowe, from Bury In Bloom, said: "As it's not a hosepipe, then we are okay, so we're delighted."
Bury St Edmunds has won the Anglia In Bloom, Britain In Bloom and Nations In Bloom large town competition in previous years.
'Incredibly concerned'
The town has more than 25,000 plants in public parks, verges, roundabouts and in 220 hanging baskets.
Ms Rackowe, who is campaign manager, said: "We were incredibly concerned we would not be able to water one of Britain's floral towns using the bowser.
"For our famous hanging baskets, we now use reservoir baskets which have a layer of water at the bottom, so they only have to be watered twice a week compared to once or twice a day as they used to be.
"We're pretty okay for this summer water-wise."
The bowser is run by St Edmundsbury Borough Council which said it is filled using approved supplies from its depot.
The council is also planning on digging a new bore hole in the Abbey Gardens to help with water supplies in the future.